Burial Records & Death Records in the UK
Finding Burial Records - these are available on CD-ROM
Burial records can be viewed on Parish Register CD-ROMs. These are available from S&N Genealogy Supplies, the largest UK genealogy publisher and retailer, who have over a decade of experience in serving the needs of family historians. Each Parigh Register page you view on the CD-ROM is scanned several times to get the best result, and any missing pages are found and included on the CDs, so you are guaranteed to get the highest quality products.
What CD-ROMs can I buy?
For the best quality products, you can visit S&N Genealogy Supplies. Below are the latest releases - simply click one for more information.
View more Parish Registers at S&N Genealogy Supplies.
Finding Burial Records - these are available Online
To view burial and death records, you can use TheGenealogist.co.uk - this vast research site includes the complete BMD indexes for 1837 - 2004, and many parish registers, so you are sure to find the record you are looking for. Click here for a 30-day free trial.
Why choose TheGenealogist?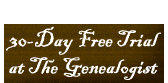 It has the widest coverage of records, from 1127 - 2005, including:
Births, Marriages and Deaths 1837 - 2004
Census indexes and transcripts 1841 - 1901
Parish Registers
Landowner Records
Wills and Testaments
Knights of England
Surname Distribution Map
SmartSearch
Why not enjoy a FREE TRIAL first? You can receive a discounted subscription price if you choose to purchase a subscription during the trial period, and all you need is a valid e-mail address! To begin, simply click the image above.